After a year of fertility treatments, pivoting to pregnancy was both a relief and overwhelming. Not only was I keeping up with all of the changes to my own body, I was planning for the birth of another human being while trying to stay on top of things at work during global pandemic. Anxious, I refused to look at anything for the first 12 weeks of my pregnancy. I longed for a "no fuss" list that would tell me what I needed to do in order to be efficient and prepared. Here's the list I wish I found along with my recommendations for what's important and what's not.
Disclosure: Some of the links in this post are affiliate links, meaning, at no additional cost to you, I will earn a commission if you click through and make a purchase.
First Trimester
Begin following/bookmarking online resources. The type of accounts you follow will vary based on your lifestyle aesthetic, parenting style, and the age of your children. Following a variety of accounts can help ease the stress of becoming a new parent as you become familiar with products and decisions you will need to make from pregnancy and beyond. Some of my favorites are:
A list of my favorite accounts to follow
Follow the Lucie's List Gear Guide. Lucie's List is a fantastic resource for product reviews and understanding what you truly need. Her Gear Guides are updated throughout the year and her Baby Registry Basics is a no fuss list of 10 categories of your true must haves with budget friendly and splurge worthy items.
Register at Babylist. People will come out of the woodwork to support you during this exciting time and they want to purchase things they know you'll use. I settled on Babysit because it allowed me to register for products and gift cards across the internet: Amazon, Pottery Barn, Nordstrom, Target, even Etsy and small businesses with online shops.
Decide if you will need a doula. Many doulas are booked months in advance. Due to the nature of their work, doulas can take on only a few familes who are are due within weeks of each other. If you're thinking about hiring a doula, now is the time to get on their schedule.
The best baby gear for working new mothers
When I think about working mothers, I think about how little time there is to spend fretting over gear and wondering if you bought the right product. In addition, baby gear that can do double duty is a bonus. I highly recommend Lucie's List as it was the guide for every purchase we made. Their recommendations never steered me in the wrong direction.
New moms also love hearing what worked for other moms – so here is a list of things that were my favorite products:
Medela Symphony

Choosing a pump is a personal decision. I chose to rent the Medela Symphony because while it is the strongest pump on the market, it's also the most expensive (a hefty $2K). Other pumps claim that they are hospital grade but is a hotly debated topic among mom bloggers. I liked knowing that my pump was the OG hospital grade (even if it was loud and large). If that meant being tethered to a bulky pump, so be it. (I hear the hands free ones are great for multitasking but may not be as strong). I also liked that it was better for the environment since when I finished with it, the company tuned it up and passed it along to the next mom. Plus, if/when Baby 2 came long, I would get a fresh new rental instead of an older pump that may not be strong after a year of pumping with Baby 1.
Lovevery play mat & toy subscription

If you're the type of person who thinks "just tell me the research based activities that I need to do to foster my child's development because I do not have time to DIY my child's development through the first year" then this Montessori inspired toy company is your answer. I adore Lovevery toys and enjoy watching Baby Z grow and develop. Each subscription box comes every 2 months and includes a notebook on how to introduce the toys to your child. Their email subscription is a fantastic resource for week by week ideas and tips for your baby's development.
Hand-me down clothes

Hear me out. There is no need for a baby to wear brand new clothes – they grow too fast and sizing varies based on when your baby is born and how big they come out. I bought all 0-3 clothes but ended up with a preemie who also skipped 6-9 sizes. Our hand-me downs saved me from purchasing things that didn't fit. Buy a couple of key outfits that you really want to dress your baby in but save your money for bigger ticket items, splurges you want to indulge in, or take the money and invest in their college fund. If you don't have friends to give you clothes, your local Buy Nothing group is a fantastic resource.
Nuna SENA Aire Playpen

Our room was too small for a bassinet beside the bed so we chose to go with a playpen at the foot of our bed. the one mistake I made was getting the Nuna SENA Aire Mini instead of the Nuna SENA Aire since the weight limit with the mini is 15lbs with the infant insert. While bassinets can be conveniently placed next to the bed, we loved knowing that we could get additional use out of the playpen when we traveled. This choice isn't for everyone, but it worked great for us.
The Stanley

If you can get your hands on this enormous 40oz drink cup by Stanley, then count yourself lucky. One of my favorite IG acounts (@thebuyguide) influenced this company to bring their guzzler back three times and it sells out every time. I have three. If you can't find a Stanley, buy the largest water bottle you can find – you will drink water for months after delivering to keep up your milk supply (if you nurse) and to hydrate your body post partum.
Dr. Bronner's Pure Castile Soap

I adore Dr. Bronner's. Eucalyptus and peppermint are my favorite scents. You can read more about the advantages of using Castile soap here but the benefits I appreciate the most include: It's a nontoxic cleaner. It can be used on the body and for cleaning around the house. And, while it's gentle in nature, it's a workhorse on odors and stains. I use Dr. Bronner's to clean stains out of the carpet, to wipe Baby Z's face after a meal, and to clean off our kitchen counter every day. It's that incredible.
Coterie Diapers

I found Coterie diapers while researching whether or not I would use cloth diapers or more environmentally friendly disposable diapers. Baby Z is 8 months old and has had zero diaper rash. In addition, the number of leaks and blowouts have been shockingly low. I credit this diaper 100%. This code is worth $20 off any first-time order of $75 or more, plus free shipping: COTERIERJSBM95M. (Note: I am a Coterie Ambassador and may receive special rewards if you use this link).
Beaba Baby Food Maker

Cooking and storing baby food is not for everyone. But, if you're up for spending a little time making your baby's first foods from scratch, the Beaba is a cinch to operate.
Gerber Cloth Diapers (used as burp clothes)

Doulas swear by these cloth diapers that can double as super absorbent burp clothes. I never had a drenched shoulder when I used them. And while they weren't as stylish as some of the ones I saw online, I wasn't too worried about looking great in those early days when all I wanted was the quickest way to save a shirt.
Second Trimester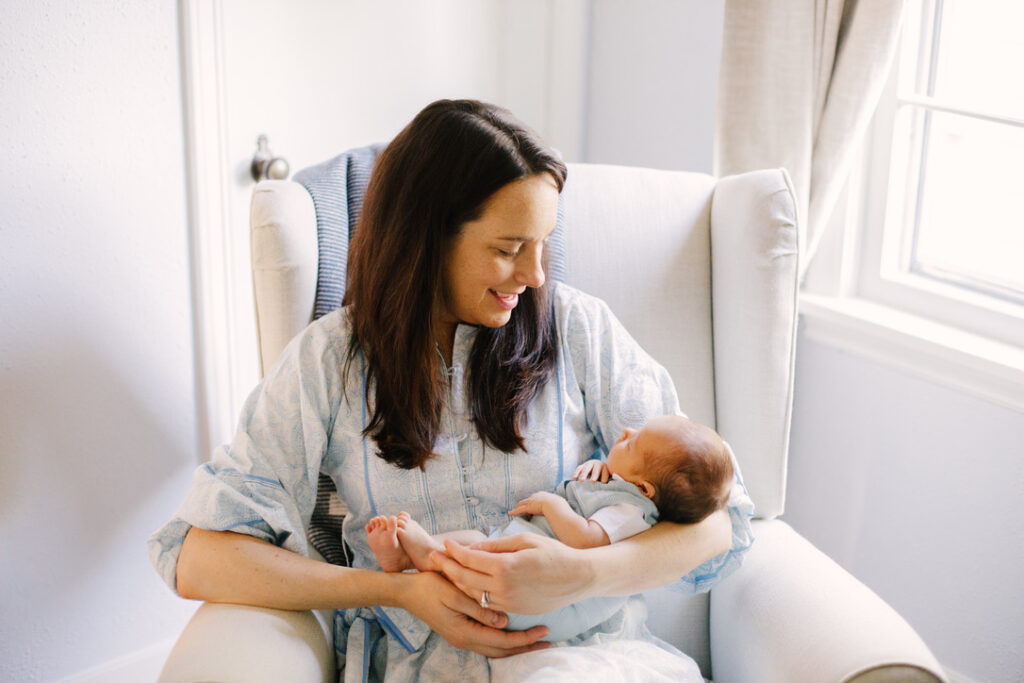 Find a newborn photographer. If you want to have newborn photos, source and secure a photographer so that they can plan to be available for your delivery window. Personal favorites: Alexa Mackinnon Siedl took our newborn photos here in Seattle. Erin Schedler is also great for Seattle moms. Alice Park Photography in Atlanta is a longtime friend One of these days I'll hire her when we go home to Georgia post-COVID for a family photo-shoot in Atlanta.
Source your baby announcement. Have a couple templates for your newborn announcement chosen ahead of time so that it's easier to create and send them once baby arrives. My favorite company for simple announcements is Artifact Uprising. If you're going the custom route, we were gifted our announcements by Anchored Paper Company and I also love Dear Eloise out of Atlanta.
Create an Amazon postpartum shopping list. There is a lot of baby gear and postpartum mom gear to consider. While doing research on the items you need (but may not be registering for) create a wish list to keep track of things you think you may need but aren't sure you need to buy right now. The benefit of a list is that you've already researched the items and chosen what you want, but aren't wasting money or storage space until you need it. With Prime shipping, you can have the items you need before you even get home from the hospital. Just whip out that phone, order off your wish list and get back to focusing on becoming a new mom.
Third Trimester
Finalize any last minute purchases. Check your baby registry and identify any must have items that you need and secure them in time for week 32.
Setup your support network. Now is the time to make sure you have family and friends to support you during this transition: doula, family, friends. Make sure you've set up a schedule for their support.
Pack for the hospital & make a "go time" checklist. In the weeks leading up to Baby Z's arrival, I kept a suitcase open on the floor of his nursery and slowly added things as I thought about what I wanted to take. Before any flight, I have a punch list of things I don't want to forget the morning of my trip. I decided to do the same for our hospital bags because trying to remember to pack my toothbrush while dealing wiht contractions didn't sound like a great plan.
Here's my hospital bag checklist:

Toothbrush/toothpaste
Shampoo/conditioner/soap
Phone charger
Laptop & charger
Camera
Bedroom slippers
1 going home outfit for mom
1 going home outfit for baby
blanket/lovie for baby
Nursing pillow
Nursing/pumping bra
Pump & pump parts so that you can work with a lactation consultant in the hospital
Snacks
Water bottle
For non-birthing partner: pillow, blanket, presentable pajamas for when nurses visit at night, Partner To Do List (see Create a Partner to do list" for the hospital)
Set up a meal train. If someone hasn't already offered, ask a close friend to set up a meal train for you during your first 6 weeks. Gather email addresses ahead of time so that you aren't pulling together your contact list while sitting in the hospital (that was me). I can tell you that having dinner every night for the first three weeks was heavenly. We were exhausted and were grateful to have a home cooked meal that we didn't need to make.
Don't wait to send thank you notes. These will be increasingly difficult to complete once the baby arrives. While it's tempting to let these wait a week or two after the shower, try to complete them as soon as you can. I had three showers between weeks 32-34 and Baby Z arrived at 35w6d. On the way to the hospital I looked at my husband and said "I never finished my thank you notes." It took 4 months to finish the backlog of thank you notes from that summer and even though I had a good excuse for being tardy, I was mortified. Even as a first time mom with a preemie, it was still important to me to send a proper note of appreciation to the people who were so generous to me.
Decide on a pediatrician and a back up. Within a couple of days of being sent home with your baby, you'll need to take your little one to their first doctor's appointment. Some doctors won't agree to taking on newborns until they arrive. Your best bet is to find a clinic you love because there will be days your pediatrician isn't available and you'll want to trust their colleagues.If your first choice is not taking new patients, have a backup so you're not scrambling to find a second choice.
Solidify plans for pets, siblings, plants, mail, and other affairs at home. The earlier you do this, the less you have to think about when it comes time. Bonus points for giving a key to your pet/house/plant/babysitter ahead of time.
Stock your freezer and pantry. It is a gift to come home to a well stocked freezer and pantry with snacks and staples like soups, single servings of casseroles and prepared meals.
Some favorite post-partum meals to freeze:
*Things to complete by week 32*
I break out the second to last month as the time that you want to complete the following tasks because this will help insure you have completed your final to dos in case the baby arrives early. My husband and laugh at the memory of our back deck being torn up because my husband wanted to finish "one last minute project before the baby arrived." He arrived 4 weeks early and my husband repaired our back deck over the next 4 weeks with a newborn at home.
Decide ahead of time how you will engage your work email. Will you be completely offline? Will you check your email for status updates only? Are you available for emergencies? Do you want to have updates with your team? Set boundaries and parameters with your colleagues and if you change your mind, communicate that with them as well. For my maternity leave, I turned off my work calendar but glanced at my email. I wanted to stay abreast on general company happenings, promotions, farewell emails, and any major announcements. we were also in the midst of a global pandemic and Microsoft provided a weekly cadence where they checked in with employees. It provided a sense of comfort for me to see those weekly emails.
Draft a "Maternity leave starts now"email. Decide on your recipients now and be sure to include key stakeholders. This is not the email you want to be drafting post-delivery should your baby arrive early. I was able to hit send from my hospital bed (post epidural) and let go of everything at work to focus on my delivery.
Draft an "Introducing baby" email for work and personal. Having an email drafted ahead of time – with email addresses – makes it easy to send the announcement to co-workers and not worry about forgetting a colleague in the special announcement. The same goes for friends and family who will be eagerly awaiting the news.
Keep your maternity leave plan in a shared file. Make sure your maternity leave plan is linked to file in the cloud and not saved to your laptop so it's easy for your teams to find. For your final 8 weeks, make it a "live" document that you update as projects continue to evolve.
Schedule meetings with your manager, skip level manager and other leadership. If you will be missing an annual review or mid-year connection with your manager regarding your performance, schedule one with your manager and skip level manager to check in before you leave. This allows you to have important career conversations that would otherwise be missed during your annual review.
Things to do to prepare for the fourth trimester
The fourth trimester, or the three months post delivery, is the time when your body heals, you adjust to the new role of motherhood, and you learn how to care for your unique newborn's needs. It's a beautiful, challenging, exhilarating, joyful, and exhausting time. Be gentle with yourself as you transition into motherhood.
Lower your expectations. Lower your expectations of everyone and everything around you – your family, your friends, and yes, your newborn. Adjusting to a new human is a lot of work especially as a new mother. Give yourself grace to not live up to the expectations you had for motherhood.
Do what's best for you and your baby, and what aligns with your family's values. A friend of mine heard the best advice from her doula that I pass along to any new mother. When making any decision for your newborn, there are only three rules you need to follow. First, do what's best for you. A mother needs to be taken care of first so that she can then give from a place of abundance to her newborn. Next, do what's best for your baby. You know your baby better than anyone else. Do what works for your child. And finally, your decisions should align with your family's values and not the values of another family. There is more than one way to raise a child and what works for one family may not work for another.
Silence the shame based feedback. If any person or any resources makes you feel ashamed for the decisions that you make for your baby's well being, do not follow, listen, or engage them anymore. The decisions you make are always within the context of your experience with your child and you are the expert on your child. No one else knows your child as well as you do. I started to follow an "infant sleep expert" on Instagram who came highly recommended by another account that I followed. This expert shamed mothers who made decisions that did not align with her philosophy. After reading her posts, I felt guilty for some of the decisions I made and doubted my instincts. It took me weeks to shake what she said. Eventually, I stopped following her and found another sleep expert who better aligned with my values. I'll say it again: unfollow, avoid, and disengage with anyone who makes you feel bad about your decisions as a mother. You are the best mother for your child.
Agree with your partner that you will speak with kindness to each other during this time. Giving each other as much grace as possible during this time will make the transition go much smoother. Those first few weeks were incredibly stressful and as we made mistake, we were gracious with each other as we both stepped into the new role of becoming a parent together. Kindness goes a long way in that first year but especially those first few weeks.
Ask for help and accept help when it's offered. Our son arrived in 2020 during the global pandemic. Assistance from family and friends was limited to porch drop offs of food and household supplies. We were so grateful for the generosity of so many people. When friends asked if they could drop off food, we said yes. When people asked what they could do to help, we asked for food. Ask for what you need and accept what your friends offer. It helps to ease the burden of the first few weeks as you and your partner adjust to parenthood.
Let it go. Something will need to give those first couple of months – your hair, your skincare routine, the dishes, your replies to text messages, your post-body expectations. You will find your way back to those things but for now you need to focus on surviving. Give yourself a break. Some of this is temporary. And for the things that aren't temporary…
Learn to embrace your new normal. It will take time for you to accept your new normal – whatever that is for you. Give yourself grace and space to understand who you are in this new role.
Go easy on your body. Do not expect anything from your body for the first 6 weeks. Realistically, you can expect recovery to take longer especially if you had a c section. The kinder you are to yourself, the better you will feel about what you can and can't control about your new body.
Get help ASAP if you need it. This goes for post-partum depression and anxiety, pelvic floor, lactation counseling, or any other post-partum need you might have. It is easy to let those things go but the sooner you address any medical challenges you are having, the better your recovery will be.
Things to do to prepare for the fifth trimester
The fifth trimester is the first 3 months that a mother returns to work after maternity leave. There is an excellent book titled "The Fifth Trimester" by Lauren Smith Brody that addresses this scared time for working mothers. I highly recommend it. In addition to all of her sage advice, I recommend the following:
Adjust your expectations. Becoming a mother requires a shift in what you expect from yourself. Your job for these first 3 months is to create your new normal and survive. This is not the time to take on a stretch assignment or new volunteer position. Your job is to figure out how to be a functional human, care your baby, and rejoin your company as a productive member of your team.
Harness the power of becoming a working mother. It may not feel like it right now, but you will one day realize that you are more effective, efficient, and strategic than you were prior to maternity leave. I had more than one mother tell me that their work performance improved considerably after having children. They became more resourceful, decisive, and confident. I found this to be true for myself.
Get a new beauty routine. Chances are, what worked for you before the baby probably won't work anymore – at least not for a while. Post-partum skin issues, makeup challenges and hair loss can disrupt even the most carefully curated beauty routines. Give yourself time to find what works for the new you.
Buy the bigger pants. I read this advice in "The Fifth Trimester" and immediately ordered a pair of pants that fit me well and didn't cut into my stomach the way all of my per-maternity pants did. I was convicted that vanity sizing was not a focus for me at this time and buying a pair of pants one size larger was not permanent and did not define who I was as a woman.
This list is not exhaustive, but it includes the highlights of what I found to be most crucial as a working mother. Would you add anything to my post?
Edited May 12, 2021.